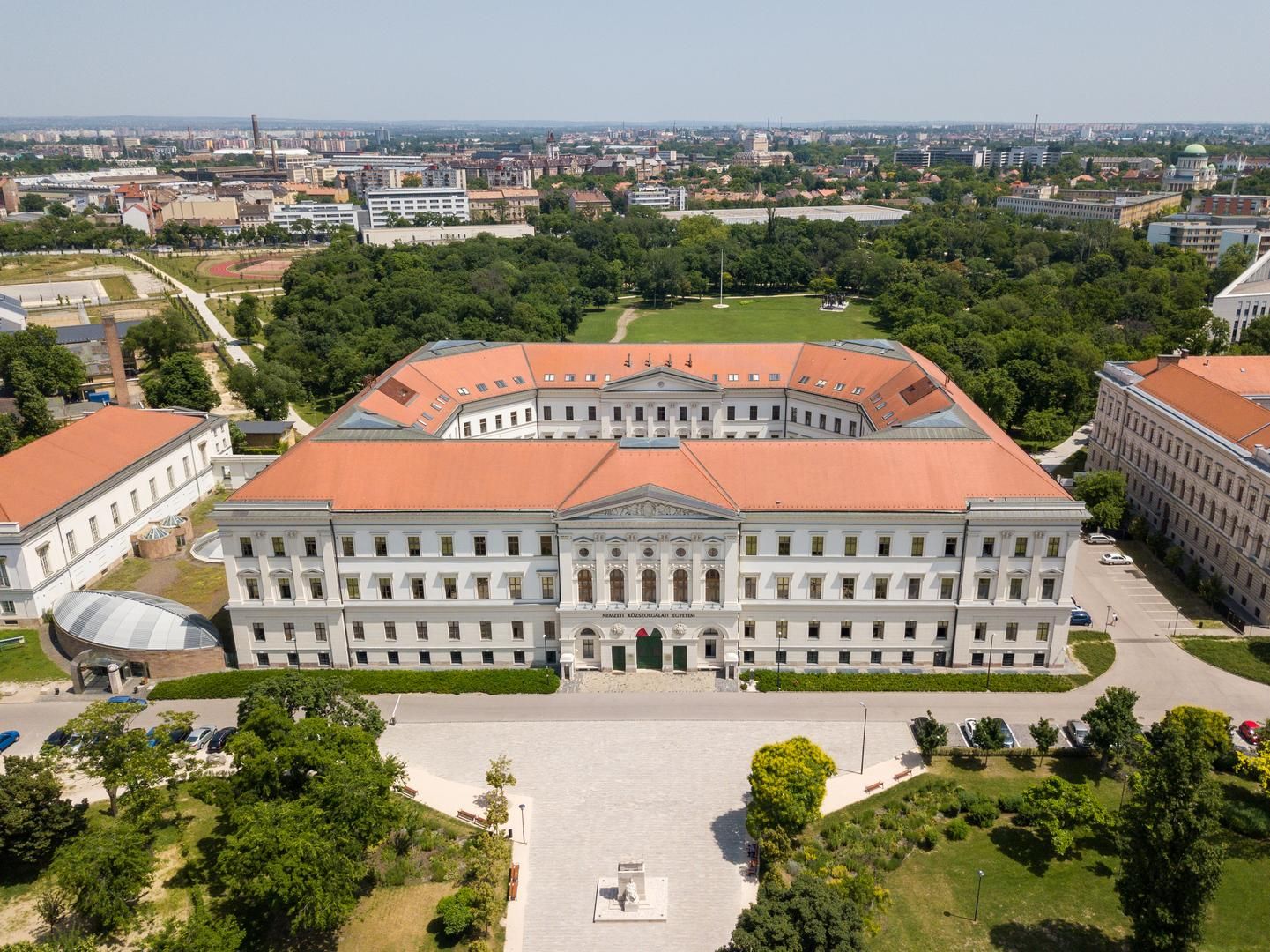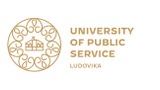 University of Public Service
1083 Budapest, Ludovika tér 2.
About
University of Public Service, a "University of cooperation"
The University of Public Service (Ludovika - UPS) is a unique institution situated in Budapest, the capital of Hungary.
UPS is the key educational institute and thin-tank of the Hungarian public service, thus being responsible for the education of future personnel of public service including civilian professionals as well as military and law enforcement officers. Besides these, NUPS is the sole institution providing continuing education and executive training for practicing professionals. In this sense NUPS provides a carrier-long training and learning platform from undergraduate-level to senior and executive civil servants and by doing so offers a knowledge-based carrier-advancement development opportunity. Lecturers of NUPS are members of academia and often practicing professionals at the same time, thus students not only receive theoretical knowledge but first-hand experiences as well. In addition, to serve the needs of central and local governments, the University has developed a "comprehensive approach" enabling the later mobility and cross-carrier paths between civil, military and law enforcement services. Furthermore, NUPS not only pays attention to developing world-class education but also to creating a modern, lively, open and student-friendly environment with the most developed infrastructure.
Faculties of UPS
Faculty of Public Governance and International Studies
Faculty of Law Enforcement
Faculty of Military Sciences And Officer Training
Faculty of Water Sciences
Inter-faculty Institutes
Institute of Executive Training And Continuing Education
Institute of Disaster Management
Institute of National Security
Institute of Starategic Studies
Institute for Research And Development On State And Governance
Centre for Strategic And Defence Studies
Doctoral Schools
Doctoral School of Public Administration Sciences
Doctoral School of Military Sciences
Doctoral School of Military Engineering
Doctoral School of Law Enforcement
Degree programmes offered in English
Interested students can apply directly to our university for the following degree programmes.
Civil Engineering BSc
Duration Of The Programme Is 8 Semesters
Students Will Be Acquainted With A Broad Range Of Contemporary Issues In Civil Engineering. The course trains Civil engineers in construction, operation, maintenance, management and administrative tasks. Our graduates are qualified to manage simple planning and research tasks independently, at a level set out in the regulations. They are also able to participate in more complex planning tasks. Our Institute offers undergraduate degree courses in Civil Engineering. Following 4 semesters of general Engineering studies, we offer a further 4 semesters of specialist studies.
Entry requirements:
English Language (B2)
Secondary school leaving certificate
Entrance exam
Environmental Engineering BSc
Duration Of The Programme Is 7 Semesters
This course provides environmental engineers with up-to-date skills in ecology, technology, economics and management, so that they can organize and supervise disaster management and remediation activities. Our graduates have professional skills which enable them to reduce and eliminate existing environmental risks, harms and damage, make sustainable use of natural resources, and implement and operate low-waste technologies. They can devise technological solutions for reclaiming waste and disposing of hazardous waste. Our graduates possess general knowledge in the fields of environmental policy, and the protection of nature and landscape. Following 4 semesters of general Environmental Engineering studies, we offer a further 3 semesters of specialist studies.
Entry requirements:
English Language (B2)
Secondary school leaving certificate
Entrance exam
More informationon on our website.
International Public Service Relations MA (MIPuS)
Duration Of The Programme Is 3 Semesters;
Students Will Be Acquainted With A Broad Range Of Contemporary Issues In International Relations, From The Phenomenon Of Globalization, The Policy Making Of International Organizations To International Law And The Law Of The European Union As Well As Hot Topics Such As Good Governance Or Integrity Management.
Entry requirements:
Advanced Knowledge Of English Language (CEFR C1)
Proof Of Advanced Knowledge Of One Of The UN Official Languages
Possess An Appropriate BA/BSc Degree Or The Verification Of Completing At Least 180 ECTS Credits In A Relevant Field Completion Of At Least 30 ECTS Credits In The Relevant Subject Areas (Further Information On Our Homepage)
For more information please visit our website. 
PhD in Public Administration Sciences
Provides Postgraduate-Level Education To Professionals (Researchers And Practitioners) Working In The Field Public Administration
Main Research Areas: Public Law And Public Administration, State And Society, Public Management, State And Economics, Public Administration In The International And European Context, Human Resources
For more information please visit our website.
https://en.uni-nke.hu/study-programs/doctoral-programs/phd-in-public-administration-sciences/doctoral-school-of-public-administration-sciences
PhD in Military Sciences
Focuses On The Questions Of Military Science Regarding The Activities Of The Defence Sphere
Wide Spectrum Of Research Fields From Military History Through Security Theories, Defence Administration To National Security
For more information please visit our website.
https://en.uni-nke.hu/study-programs/doctoral-programs/phd-in-military-sciences/doctoral-school-of-military-sciences
PhD in Military Engineering
Focuses On Fields Of Research That Are Specifically Related To The Military Application Of Engineering
Training And Preparation For Scientific Research In Various Related Fields Ranging From Basic And Applied Researches And Development, Through Technology And Technology-Transfer To Technological Innovation
For more information please visit our website.
https://kmdi.uni-nke.hu/english/about-the-doctoral-school
Exchange studies
The most common way to be an exchange student at our University is to participate in the Erasmus+ programme. This option is open for students of our Erasmus+ partner institutions inside and outside of Europe.
We also welcome CEEPUS freemover students or applicants according to other bilateral agreements with our partners.
Exchange students can choose courses from different modules, each of them including a wide selection for at least 30 ECTS credits.
Constitutionalism-Democracy-Governance Module
Management And ICT In Public Administration
International Relations Module MA
International Relations Module BA
Military Leadership Module
Logistics And Maintenance Module
Aviation Module
Law Enforcement Module
Institute Of Disaster Management
Complementary Soft Skill Module
Erasmus Student Network
A Mentor Programme With Enthusiastic, Open-Minded And Helpful Mentors;
Each Incoming Student Has A Buddy Guiding International Students Through Their Stay In Hungary;
Organizing A Wide Range Of Social Activities And Integrating Incoming Students To The Student Life Of The University.
For more information please visit our website.
Main languages of education
Hungarian
English
Language courses
English
German
French
Chinese
Russian
Why to choose NUPS?
NUPS provides:
Opportunity To Combine Theoretical Knowledge With Practical Experiences;
Various Types Of Lectures And Seminars;
Opportunities To The Develop Language Skills;
An International Atmosphere With Summer Schools, Student Unions, Specialised Research Colleges, University Sports Club That Are All Open To International Students As Well;
A Modern, Lively And Student-Friendly Environment Equipped With Up-To-Date Technologies;
Multimedia Libraries, Dormitories, And Free WI-FI Access On Campus;
Accommodation For Most Of Its Students In Its Dormitories That Are Located On Campus;
Extensive Support For International Students Through Coordinators And Mentors, Covering Academic And In Everyday Life Issues As Well;
An Outstanding Student Experience Embedded In The Vibrant Life Of Budapest;
Exchange Programmes, Professional Workshops, EU Career Days, Series Of Ambassador's Forum, Erasmus Student Network, Integration Parties, The Fresher's Camp And The Fresher's Ball, Joint Public Service Exercise And So Much More!
Contact information:
National University of Public Service
International Relations Office
Address: 1083 Budapest, Ludovika sqr 2.
Postal address: 1441 Budapest, P.O. Box 60,
Phone: +36 1 432 9000 / 29740
E-mail
General issues: nups.international@uni-nke.hu
Degree and exchange programmes: international.exchange@uni-nke.hu
NUPS on social media
Facebook (Www.Facebook.Com/Uni.Nke)
YouTube (Www.Youtube.Com/User/NkeUni)
Flickr (Www.Flickr.Com/Uni-Nke)
Instagram (Www.Instagram.Com/Uni.Nke)
Twitter (Www.Twitter.Com/Uni_nke)
Languages
English
Hungarian
Study area
Legal Science
Social Science
Engineering Science
Level
BA/BSc
MA/MSc/MBA
PHD/DLA
One-Tier Master Course
Summer School
Az Egyetemről
Nemzeti Közszolgálati Egyetem az "Együttműködés Egyeteme"
A Nemzeti Közszolgálati Egyetem Magyarország egyedülálló felsőoktatási intézménye, amely az ország fővárosában, Budapesten található. .
A Nemzeti Közszolgálati Egyetem a magyar közszolgálati képzés kulcsintézménye, egyúttal a közszféra jelentős think-tank-je, amely felelős a jövő közalkalmazottainak, köztisztviselőinek és kormánytisztviselőinek képzéséért, ideértve a civil szakértőket és a katonai és rendészeti hivatásos tiszteket egyaránt. A Közszolgálati Egyetem mindemellett egyedüli módon biztosít továbbképzéseket és vezetőképzéseket is a hivatalviselők számára. A Nemzeti Közszolgálati Egyetem méltán nevezhető a karrier-hosszig tartó oktatás és képzés otthonának, ahol az egyetemi képzés alapszakától, a mesterképzésen és doktori képzésen át, a speciális vezetőképzésekig, minden szinten ajánl képzéseket, karrierspecifikus fejlődési lehetőségeket a hallgatók és a munkahelyen már elhelyezkedett hivatalnokok számára egyaránt. Az NKE oktatói közül sokan karrierjük során gyakorlati tapasztalatokat is szereztek, így a hallgatók nem csak elméleti , hanem elsőkézből kapott, használható gyakorlati tudásban is részesülhetnek. A helyi és központi közszolgálati és kormányzati szervek változó igényeinek figyelembevételével az Egyetem olyan "átfogó megközelítés"-t fejlesztett ki, amely ezáltal elősegíti a mobilitást és a civil, katonai és rendészeti karrierek közötti átjárást. A Nemzeti Közszolgálati Egyetem nemcsak arra helyezi a hangsúlyt, hogy világszinvonalú oktatás otthona és kutatási központ legyen, hanem egyúttal törekszik a modern, élhető, nyitott,hallgatóbarát és fejlett infrastruktúrával rendelkező környezet kialakítására is. Az egyetem központjaként szolgáló Ludovika Campus, Budapest legmodernebb egyetemi helyszíneinek egyike, amelynek kialakítása nemcsak az Orczy-park teljes megújítását célozta, hanem új speciális oktatási épületek, szabadidős-, sport- és kollégiumi létesítmények megépítését is magával hozta. A víztudományi képzés helyszínéül szolgáló bajai campus ugyancsak korszerű, vízügyi technológiai eljárások bemutatásra ás elsajátítására alkalmas oktatóhelyekkel és laboratóriumokkal rendelkezik.
Karok:
• Államtudományi és Nemzetközi Tanulmányok Kar
Az ÁNTK legfőbb célkitűzése olyan szakemberek képzése, akik a tanulmányaik során megszerzett ismeretek és készségek révén magas színvonalon helytállnak a magyar közigazgatási, valamint a külképviseleti és európai uniós intézményekben meglévő diplomáciai és más nemzetközi feladatok ellátása során is. A Kar egyedülálló magyar és angol nyelvű képzési kínálata, a külföldi ösztöndíj-lehetőségek, valamint a potenciális munkáltatók igényei szerint kialakított gyakorlatorientált képzések versenyképes tudást nyújtanak a hallgatók számára. Az ÁNTK-n végzett hallgatók olyan közigazgatási szakemberek lesznek, akik mind a hazai, mind a nemzetközi adminisztrációs környezetben megállják a helyüket. A hallgatók számára a versenyszférában és a civil szervezeteknél is értékes lehetőségek adódnak, akár az adminisztrációs, projektmenedzsment, vagy a szervezési területek által kínált álláslehetőségek tekintetében. Az ÁNTK-ás végzettség utat nyit az európai uniós igazgatás, a nemzetközi szervezetek vagy akár a védelmi szektor különböző szintjei felé is.
• Rendészettudományi Kar
A Rendészettudományi Kar a jogelőd Rendőrtiszti Főiskolához hasonlóan a hazai felsőoktatásban továbbra is egyedüliként folytat rendészeti képzést. A Kar a rendészeti ágazat szervei, így különösen a Rendőrség, a Büntetés-végrehajtási Szervezet, a Nemzeti Adó- és Vámhivatal, az Országos Katasztrófavédelmi Főigazgatóság, az Országos Idegenrendészeti Főigazgatóság, továbbá a polgári nemzetbiztonsági szolgálatok és a magánbiztonsági, illetve az önkormányzati szféra számára képez tiszti, közalkalmazotti, köztisztviselői és kormánytisztviselői munkakörök betöltésére hivatott, felsőfokú szakképzettségű rendészeti szakembereket. Hallgatóink iránt nagy a kereslet, a jogelőd főiskola diplomás pályakövetési rendszere (DPR) szerint a végzettek 98%-a el tudott helyezkedni. A képzés speciális jellegéből adódóan a Kar arra törekszik, hogy erősítse a hivatástudatot és a szakértelmet, mert megbízható, magas színvonalú tudást kíván átadni, és felvértezni hallgatókat az elvárt magatartásformákkal, személyiségjegyekkel, mivel hitvallásunk szerint csak elhivatott és felkészült hallgatók tudnak tisztként helytállni a rendészeti szerveknél.
• Hadtudományi és Honvédtisztképző Kar
A HHK küldetése a közszolgálati hivatásrendek utánpótlásának biztosítása, ezzel az állam magas színvonalú működésének garantálása. Az állam által teljesítendő, Alaptörvényben szabályozott feladatok egyike a honvédelem. A haza védelme évezredek óta a legmagasztosabb és legszentebb kötelességek közé tartozik és ennek aktualitása ma is megkérdőjelezhetetlen. Magyarország egyetlen honvédtisztképzést folytató oktatási intézményeként, a magyar tisztképzés történelmi hagyományaiból kiindulva, az elődök példáját követve, modern, tudományosan megalapozott, ugyanakkor a katonai hivatásnak megfelelő gyakorlatias képzést folytat. A Kar oktatási egységei csaknem az összes katonai szakterületet átfogják. A Karon folyó hadtudományi, katonai szakmai képzés lehetővé teszi, hogy a honvédtiszti hivatást választó fiatalok az érdeklődésüknek leginkább megfelelő szakterületre kerüljenek. A harckocsizótól a lövészig, a híradóstól az informatikusig, a hadtápostól a technikusig, a légiirányítótól a repülőműszaki szakértőig megannyi érdekes szakma elsajátítására van lehetőség. A Kar a magyar hadtudományi és katonai műszaki kutatások meghatározó központja. Az eredmények nemzetközi igazolása és összehasonlítása érdekében a Kar olyan nemzetközi kapcsolatrendszert működtet, amely biztosítja a minőségi követelmények teljesítését. A külföldi beágyazottság lehetővé teszi nemzetközi képzési programok lebonyolítását is.
• Víztudományi Kar
 A bajai vízügyi képzés országos hírű és jelentőségű, az ágazat egyik legfontosabb utánpótlási bázisa. Nem csak frázis: a jövő vízgazdálkodása alapvetően fogja meghatározni a világ, benne hazánk fejlődését, gazdasági teljesítőképességét, élelmiszerbiztonságát, környezeti állapotát és a lakosság életminőségét. A megfelelő mennyiségű és minőségű víz rendelkezésre állása, a vizek kártételei elleni védekezés stratégiai ágazattá emeli a vízgazdálkodást. A világban zajló globális változások jelentős része már ma is a víz miatt történik, illetve a vízen keresztül fejtik ki hatásukat. A mérnöki és vízdiplomáciai tudás a 21. század legfontosabb értékei és szaktudásai közé tartoznak. Hosszú távú célunk azonban túlmutat a mérnökképzésen: nemzetközi viszonylatban is meghatározó kutatási-oktatási központtá kívánunk válni a vízgazdálkodás terén. Képzéseink Baján folynak, de az oktatásba bekapcsolódnak az egyetem más egységei is.
Doktori iskolák
• Hadtudományi Doktori Iskola
A védelmi szféra tevékenységét érintő hadtudományi jellegű kérdések kutatása.
• Katonai Műszaki Doktori Iskola
Kutatási területek: katonai műszaki infrastruktúra; haditechnika és robotika; védelmi elektronika, informatika és kommunikáció; katonai környezetbiztonság; katonai logisztika; biztonságtechnika; katasztrófavédelem
• Közigazgatás-tudományi Doktori Iskola
A társadalomtudományok tudományterületén belül, a közigazgatás-tudományok valamennyi részterületét, vonatkozását érintő kérdések kutatása.
• Rendészettudományi Doktori Iskola
A társadalomtudományok tudományterületén belül, a rendészettudományok valamennyi részterületét, vonatkozását érintő kérdések kutatása.
Karközi intézmények:
• Katasztrófavédelmi Intézet
• Nemzetbiztonsági Intézet
• Stratégiai Tanulmányok Intézete
• Közigazgatási és Továbbképzési Intézet
• Eötvös József Kutatóközpont
Miért az NKE?
• Sokszínű kurzuskínálatot biztosítunk;
• Fiatalos, sokszínű és barátságos hallgatói közösség;
• Tehetséggondozó szakkollégiumok és tudományos diákkörök;
• Közösségi élet a campusokon: A Ludovika Campus kollégiumai, valamint a Sugovica partján lévő bajai campusunk is számos szabadidős lehetőséget kínál. A campusokon sok program (tudományos és szabadidős egyaránt) vár majd téged is;
• Multimédiás könyvtárak, kollégiumok és ingyenes WI-FI a Campus teljes területén;
• Külföldi hallgatók számára egyedülálló mentorprogram és hallgatói közösség;
• Rendkívüli programok: Ludovika Nagyköveti Fórum, #ErasmusDays, International Welcome Day, Jeges Est.
Elérhetőségek:
Nemzeti Közszolgálati Egyetem
1083 Budapest, Ludovika tér 2.
Elérhetőség: international@uni-nke.hu és international.exchange@uni-nke.hu
Közösségi média megjelenés:
Facebook: Www.Facebook.Com/Uni.Nke
YouTube: https://www.youtube.com/user/NkeUni
Flickr: Www.Flickr.Com/Uni-Nke
Instagram: Www.Instagram.Com/Uni.Nke
Twitter Www.Twitter.Com/Uni_nke
LInkedIN: linkedin.com/school/national-university-of-
Search and apply!
Departments
Faculty of Public Governance and International Studies

Budapest
Faculty of Law Enforcement

Budapest
Faculty of Water Science

Baja
Faculty of Military Sciences and Officer Training

Budapest