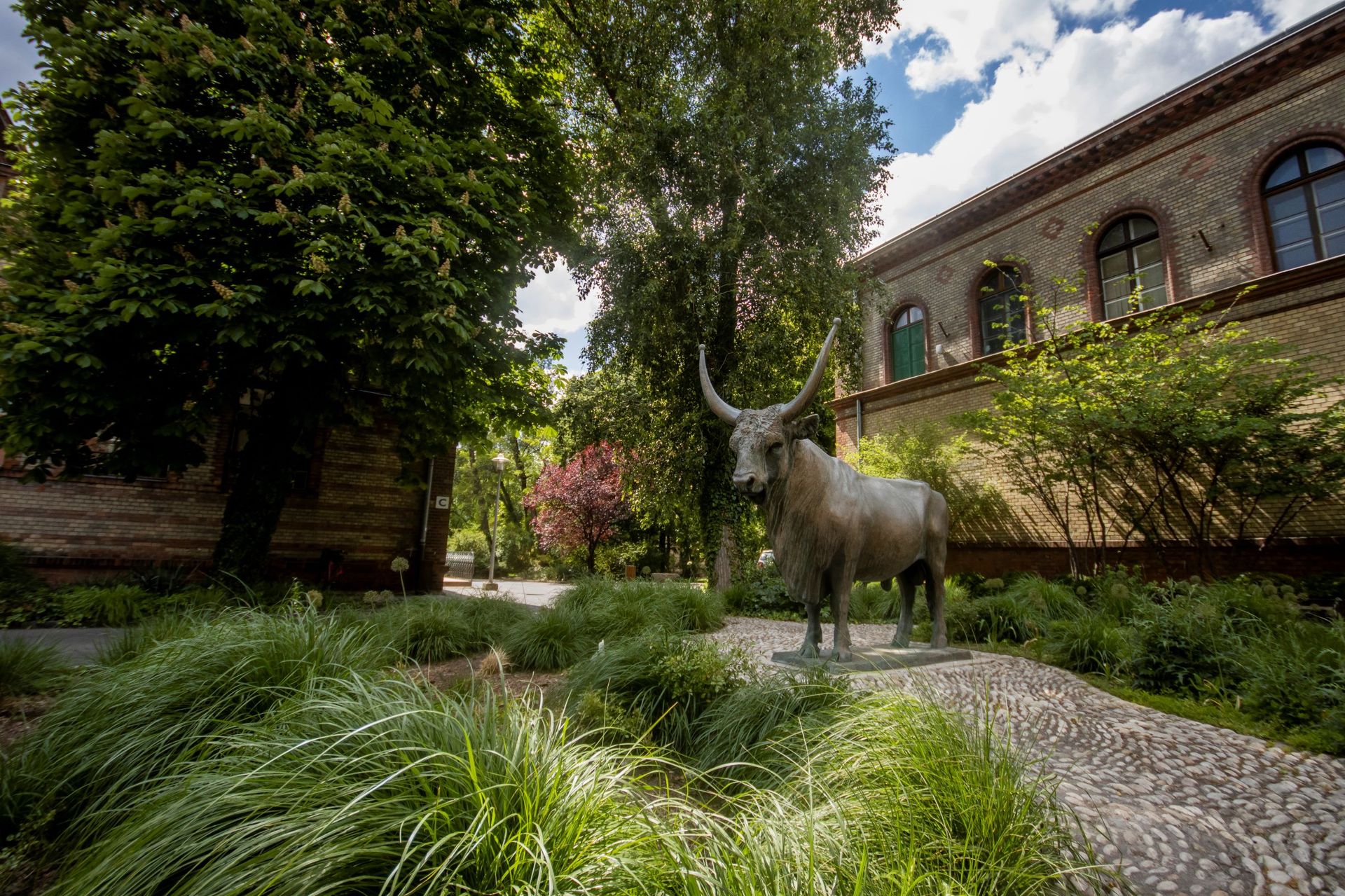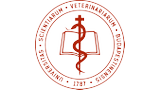 University of Veterinary Medicine Budapest
1078 Budapest, István utca 2.
About Us
A Brief History of Veterinary Education in Hungary
In 1787, shortly after the foundation of the world's first veterinary school (1762, Lyons) a "Chair for Animal Healing" was established at the Faculty of Medicine in the town of Pest (now an area of the city of Budapest) to provide students of medicine and surgery with basic knowledge of animal diseases and their management, an integral part of a general practitioner's activity at that time.
In the early 19th century, the rapid expansion of the traditional horse and cattle breeding on the Hungarian plains called for adequate institutional development. Accordingly, in 1851 the Chair for Animal Healing became independent from the Medical Faculty as the "Royal Institute of Veterinary Medicine". In 1899, its status was changed to that of a Royal College with the right to issue the D.V.M. diploma (Doctor Veterinariae Medicinae). As an independent College, this school earned an international reputation in the first half of the 20th century. From 1960 it obtained the status of an independent University.
As a part of the countrywide reorganization of higher education in 2000 in the University became the Faculty of Veterinary Science, Budapest of the newly founded Szent István University. From summer 2016 our school regained its independence thus the former name University of Veterinary Medicine applies. It is further on a state university and the program has been continually supervised and accredited by the Hungarian Accreditation Board.
International Accreditation
In 1995 the veterinary school was internationally accredited by the European Association of Establishments for Veterinary Education (E.A.E.V.E.). The follow-up visitation took place in 2004 with a positive outcome. The accreditation of the Budapest veterinary school was reinforced by the E.A.E.V.E. and the F.V.E. (Federation of Veterinarians of Europe). The Accreditation Report concludes: "The University of Veterinary Science can claim a proud position among its European counterparts. Its young graduates need not be afraid to compete with their European colleagues for their knowledge and practical skills."
Hungary is since 2004 a full member of the European Union which means acceptance of degrees within the EU and their equivalence with degrees from other EU-countries. The Budapest-diploma is accepted in addition to EU-countries in several others as well. After the completion of a board exam in Canada or the US, the graduates are entitled for a residency and to practise in North America.
Facts and Figures
The University of Veterinary Medicine Budapest is, as appropriate for a country with a population of 10.5 million, the only veterinary school in Hungary. Current enrolment is about 100, 120 and 120 students for the Hungarian, German and English programs, respectively. This means that we have a total of 1,000 students at the veterinary school. As in the case of all state universities in the country the Faculty is officially supervised by the Ministry of Education and its teaching and research programs are also sponsored by the Ministry of Agriculture and Regional Development and the Hungarian Academy of Sciences.
Library and Internet
The Veterinary Science Library, Archives and Museum has a rich collection. Its historic library with 16th-19th century books, the faculty archives and the museum of veterinary history are particularly valuable. Besides, it is a modern information centre with current journals and books in veterinary science and biology in printed or electronic format, an online catalogue, a digital library, large international databases (such as CAB Abstracts, FSTA, Zoological record, Web of Science etc.) and a dynamic homepage. A computer room, printing, copying facilities and WIFI are also available.
Campus and Field Station
The campus is located in the central area of Budapest, near to one of the main railway and subway stations, easily accessible by public transport. The main Field Station of the Faculty is located in Üllő, ca. 10 km from the boundary of the city. It comprises an Experimental Institute for biotechnology, a living gene-bank for preservation of old Hungarian breeds of farm animals, horse stables with a riding-school and hippodrome, and a Large Animal Clinic -- opened in Summer 2001. Beside the daily routine work, the Clinic is used for practical training. The University operates a shuttle-service between the Campus and the Field Station.
In 2006 a new up-to-date Small Animal Clinic was opened to provide students, staff and clients with 21st-century facilities for diagnostics and treatment.
The English-Language Program
The English-language program at the University of Veterinary Medicine Budapest was instituted in 1992 for students with a working knowledge of English. The English-language program begins in early September each year. The curriculum for veterinary medicine takes five and a half years and parallels the standard curriculum found in most European veterinary programs. During the first two (preclinical) years students study Anatomy, Histology, Embryology, Biology, Chemistry, Physics, Zoology, Physiology, Biochemistry, Ethology, Agrareconomics, Botany, Biomathematics and Computer Application. English, Latin and Hungarian languages can be chosen as optional courses. During the next three (clinical + paraclinical) years, the curriculum includes Animal Breeding, Pathology, Pharmacology, Toxicology, Microbiology, Pathophysiology, Parasitology, Animal Nutrition, Veterinary Medicine, Surgery, Obstetrics, Food Hygiene, Forensic Veterinary Medicine, Animal Hygiene, Epizoology and State Veterinary Medicine. The 11th (practical) semester includes practical work at the Faculty Clinics and faculty-associated institutions. Practical work at the school's Field Stations and State Farms as well as with practitioner veterinarians is part of the curriculum.
The entire curriculum (divided into core subjects and electives) consists of more than 5000 hours, a curriculum standard for the European Community. Before the conclusion of the degree program the students must submit a thesis and take a state examination.
Hungary is a full member of the European Union. The degree received at the University of Veterinary Medicine Budapest is accepted automatically by the member countries of the Union and in several countries of the world. The graduates of our English-language program -- coming mainly from the Scandinavian area (esp. Norway and Sweden), Ireland, Israel, UK, Greece, Cyprus and Canada -- report on equal chances with graduates in their home countries.
Statement of Non-Discrimination
The University of Veterinary Medicine Budapest does not discriminate on the basis of race, colour, national or ethnic origin, religion, sex, marital status, age or handicap.
Languages
English
Hungarian
Study area
Medical And Health Science
Level
Ma/MSc/MBA
PHD/DLA
One-Tier Master Course
Preparatory Program
Summer School
Rólunk
A magyarországi állatorvosképzés rövid története
1787-ben, röviddel a világ első állatorvosi iskolájának (1762, Lyon) megalapítása után a Pesti Egyetem Orvosi Karán megalakult az első állatorvoslást oktató tanszék annak érdekében, hogy a hallgatóknak alapvető orvosi és sebészeti ismereteket tudjanak átadni az állatbetegségekkel és kezelésükkel kapcsolatban, hiszen mindez akkoriban a háziorvosi szolgálat szerves része volt.
A 19. század elején, a hagyományos ló- és szarvasmarha-tenyésztés gyors ütemű terjeszkedése kapcsán megfelelő intézményi fejlesztésre is szükség volt. Így 1851-ben a tanszék különvált az Orvosi Kartól, mégpedig Királyi Állatorvosi Intézet néven. 1899-ben az intézmény neve Magyar Királyi Állatorvosi Főiskolára változott, s a főiskola megkapta a jogot, hogy állatorvos-doktori diplomát állítson ki végzett hallgatóinak. Önálló főiskolaként az intézmény nemzetközi hírnévre tett szert a 20. század első felében, 1960-tól pedig már nem főiskolaként szerepelt, hanem önálló egyetemmé vált.
A magyar felsőoktatás országos szintű átalakulása következtében az egyetem 2000-ben az újonnan megalapított Szent István Egyetem Állatorvosi karaként működött tovább. 2016 nyarán intézményünk visszakapta függetlenségét, így a korábban már érvényes, Állatorvostudományi Egyetem megnevezés lépett újra életbe. A képzést a Magyar Felsőoktatási Akkreditációs Bizottság akkreditálja.
Nemzetközi akkreditáció
Az Állatorvostudományi Egyetem nemzetközileg is elismert intézmény, ezt pedig az is bizonyítja, hogy 1995-ben az Állatorvosképző Intézmények Európai Egyesülete (E.A.E.V.E.) akkreditációja pozitív eredménnyel zárult. A következő alkalommal, 2014-ben ismét sikerrel akkreditálta a kart az E.A.E.V.E. Az akkreditációt a már említett egyesület mellett az F.V.E. (Európai Állatorvosok Szövetsége) végezte, az eljárás pedig az alábbi pozitív jelentéssel zárult: "…A budapesti Állatorvostudományi Egyetem büszkén foglalhatja el helyét az európai partnerintézmények között. Az ott végzettek megállják helyüket mind elméleti, mind gyakorlati felkészültségben, összehasonlítva őket külföldi kollégáikkal."
Magyarország 2004 óta teljes jogú tagja az Európai Uniónak, ami egyben azt is jelenti, hogy az egész Európai Unióban elfogadottak az intézményünkben megszerzett diplomák, illetve egyenértékűek is a többi EU tagállam által kiadott diplomákkal. Az egyetemünk által kibocsátott diplomát azonban nem csupán az Európai Unióban, de több más országban is elfogadják. Kanadában vagy az Amerikai Egyesült Államokban a szükséges vizsga elvégzése után diplomásaink jogosultak arra, hogy letelepedjenek és elhelyezkedjenek a szakmájukban egész Észak-Amerika területén.
Tények és számok
Az Állatorvostudományi Egyetem – közel 10 millió lakosú országnak megfelelően – az egyetlen állatorvosképző intézmény Magyarországon. A magyar nyelvű szakon 100, a német képzésen 120, míg az angol nyelvűn szintén 120 hallgató tanul jelenleg is, ez azt jelenti, hogy összesen kb. 1000 hallgatónk van az állatorvosi képzésben. Képzésünket az Oktatási Hivatal felügyeli, oktatási és kutatási programjainkat pedig az Agrárminisztérium és az MTA is támogatja.
Könyvtár és internet
A Hutÿra Ferenc Könyvtár, Levéltár és Múzeum igen gazdag gyűjteménnyel rendelkezik. Különösen értékes darabok a XVI-XIX. századi könyvek, a képzéshez köthető archívum és az állatorvostudományi múzeum. Könyvtárunk egyben egy modern információs központ is, amely az állatorvostudomány és a biológia folyóiratait és könyveit nyomtatott vagy elektronikus formátumban is őrzi, online katalógussal, digitális könyvtárral, nagy nemzetközi adatbázisokkal (például CAB Abstracts, FSTA, Zoological Record, Web of Science stb.) és egy letisztult honlappal várja látogatóit. Központunkban számítógépes szoba, nyomtatási és másolási lehetőség és WIFI is a látogatók rendelkezésére áll.
Egyetemi területek
Az egyetem Budapest központi részén található, az egyik fő vasúti pályaudvar és metróállomás közelében, tömegközlekedéssel könnyen megközelíthető. A legtávolabbi telephely Üllőn, a várostól 30 km-re 1300 hektáros területen helyezkedik el. A környezet tipikusan alföldi, így a hallgatók azonnal megismerik az ország nagy részének agrikulturális környezetét. Egy régi udvarház tartalmazza a központi irodát, itt található továbbá a rezervátum a régi magyar állatfajtáknak, lóistállók lovasiskolával és hippodrommal, valamint az új Nagyállatklinika. A hatásos megjelenésű épületet Makovecz Imre tervezte, aki a kortárs építészet vezető egyénisége. A napi feladatok mellett, a Klinika ad otthon a gyakorlati óráknak is. Az egyetem külön járatot üzemeltet az egyetem főépülete és Üllő között.
2006-ban új, korszerű Kisállatklinikát nyitottunk annak érdekében, hogy a hallgatók, a kollégák és az ügyfelek számára is 21. századi diagnosztikai és kezelési lehetőségeket biztosítsunk.
Az angol nyelvű program
Az Állatorvostudományi Egyetem angol nyelvű programját 1992-ben indítottuk, a program minden év szeptemberének elején kezdődik. A képzés öt és fél évig tart, a képzési anyag pedig a többi európai állatorvosképző intézmény képzési programjához hasonlóan épül fel. Az első két (preklinikai) év során a hallgatók többek között anatómiát, szövettant, biológiát, kémiát, fizikát, állattant, élettant, biokémiát, agroökonómiát, biomatematikát tanulnak. Az angol, latin és magyar nyelvet szabadon választható tantárgyként vehetik fel. A következő három (klinikai + paraklinikai) év során a tananyag már tartalmazza az alábbi tudományterületeket: állattenyésztés, patológia, farmakológia, toxikológia, mikrobiológia, parazitológia, állatgyógyászat, sebészet, szülészet, élelmiszer-higiénia, járványtan. A 11. (gyakorlati) félév során a hallgatók az egyetem különböző tanszékein, telephelyein gyakorolhatják a megszerzett tudást. A tanterv szerves részei az egyetem telephelyein, az állami gazdaságokban, valamint az állatorvosok mellett eltöltött gyakorlati órák és alkalmak.
A teljes képzés (kötelező tantárgyakra és szabadon választható tárgyakra osztva) több mint 5000 órából áll, amely a European Community által is meghatározott óraszám. A képzés elvégzése előtt a hallgatók diplomamunkát készítenek, majd államvizsgáznak.
Magyarország az Európai Unió teljes jogú tagállama. Az Állatorvostudományi Egyetemen megszerzett diplomát az Európai Unió tagországai és a világ több más országa is automatikusan elfogadja. Angol nyelvű programunk végzettjei – akik főként a skandináv térségből (pl. Norvégia és Svédország), Írországból, Izraelből, Nagy-Britanniából, Görögországból, Ciprusról és Kanadából érkeznek – nagy örömünkre egyenlő elhelyezkedési esélyekről számolnak be a hazájukban végzett diplomásokhoz viszonyítva is.
Nyilatkozat az egyenlő bánásmódról
Az Állatorvostudományi Egyetem nem tesz különbséget bőrszín, nemzeti vagy etnikai hovatartozás, vallás, nem, családi állapot, életkor vagy hátrányos helyzet alapján.
Nyelvek:
Angol
Magyar
Képzési terület:
Agrártudomány
Képzési szint:
Ma/MSc/MBA
PHD/DLA
Osztatlan mesterképzés
Előkészítő program
Summer School
Search and apply!
One Tier Master
OTM

Veterinary Medicine
One Tier Master, full degree studies
University of Veterinary Medicine Budapest, Doctor of Veterinary Medicine
OTM

állatorvosi
One Tier Master, full degree studies
University of Veterinary Medicine Budapest, Doctor of Veterinary Medicine
OTM

állatorvosi_hu
One Tier Master, full degree studies
University of Veterinary Medicine Budapest, Doctor of Veterinary Medicine
Departments
Doctor of Veterinary Medicine

Budapest